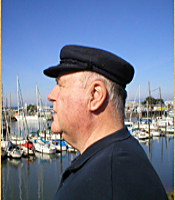 After growing up on the Mississippi, Roger Huff spent his college years on and under the waters off of Florida, studying oceanography and diving for sunken treasure. Upon earning his Master's degree he spent the next twenty years in the Navy working on a wide variety of projects including: antisubmarine warfare, an underwater habitat, a deep water salvage operation, three space missions, and designing command and control support systems.
After retiring from the Navy, Roger worked in information technology for another fourteen years before founding Write Aweigh. His careers took him from the Mediterranean to Micronesia, and most of his stories are based on personal experiences and characters he met along the way. One of them was a colorful and rather unscrupulous old salt who called himself Captain Bucko, and in doing so provided the pen name for Roger's line of popular nautical books.
Roger honed his communication skills while teaching at the secondary, college, and post-graduate levels, and his writing style is known for its technical detail and use of humor to make the most difficult information entertaining and easy to understand. With Captain Bucko at the helm, Write Aweigh is on course.